• Free shipping worldwide (without minimum order value).

• International shipping is carried out by DHL / Deutsche Post. National shipping in addition carried out by Hermes Logistic Service.


Delivery times

Germany: 1-4 days
Worldwide: 1-8 days
In case of a delay in the delivery date, we will inform you immediately.
For deliveries to non-EU countries, levies may apply in the destination country,
please also note our instructions
.
---

Payment terms for international customers (outside of Germany)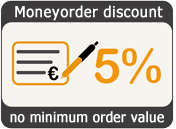 If you pay by prepayment / SEPA bank transfer, you will receive a discount of 5%. We will give you the bank details (IBAN and BIC-Code) via email after you complete your order.

---







To process the credit card payment, we use the PayPal Plus service. No login or registration is necessary. When ordering, simply select the payment method "PayPal Plus" and the subitem "Credit Card".